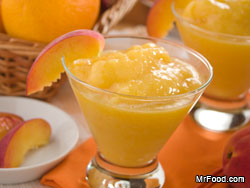 Spring is in the air! And that means shedding off those winter clothes, and preparing for some sunny high temperatures! It also means spring-cleaning, and that's just what I did this weekend…out with the old and in with the new!
In addition to maybe re-arranging some furniture or getting a new bedspread to spruce things up a bit, it also means eating lighter to help us get into some really cute clothes for the summer.
In the midst of all my spring-cleaning, it was time for a nice and refreshing smoothie to keep me going. I took a look at what shakes we have here at the Test Kitchen, and I found a bunch of delicious options.
Share and Enjoy