With summer in high gear, a hot kitchen is the last place any of us want to be! But what happens when that sweet tooth strikes – and only a cool, creamy dessert will satisfy? With our new free eCookbook, No Bake Desserts: 18 Easy Dessert Recipes from Mr. Food, you can kiss the oven goodbye and keep your kitchen cool with our quick and easy no bake recipes! From S'more Puddin' Sandwiches to PB&J Ice Cream Pie, the No Bake Desserts free eCookbook features all of your favorite no bake desserts – no oven required.
We here in the Mr. Food offices are – of course – partial to anything quick and easy, but in the sweltering summer months, there's something sweet and simple about no bake desserts that just makes you want to say, "Ahhhhhh!" Sure, it's easy to flag down the neighborhood ice cream truck for some prepackaged, overpriced desserts, but we promise these cool no bake dessert recipes are just as easy and taste SO much better! A long-frozen sno-cone has nothing on our creamy, indulgent No-Bake Cheesecake or our coookie-licious Cookies 'n' Cream Pie.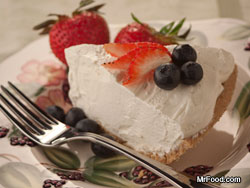 Our no bake desserts recipes make excellent centerpieces for parties and picnics. Celebrate summer-fresh strawberries by making old-fashioned homemade Strawberry Patch Ice Cream, great for a cool-down dessert at a backyard BBQ. Set up an ice cream bar at your next summer party and have your guests make cute, do-it-yourself Ice Cream Sandwiches that will surely get raves. Neighborhood block parties are always full of games, and our Family Sized Sundae is perfect for an ice cream-eating contest – but better make it a group activity, since this is one huge sundae!
The best part about our selection of no bake recipes is that they aren't just ideal for the hot summer months; they can easily be enjoyed any time of year, especially when your oven is occupied during parties and holidays. Since NOT having dessert isn't an option – and we can't always rely on a friendly neighbor to spare some oven space – this is where easy no bake desserts save the day! At the end of a delicious meal, leave your guests feeling like a million bucks with this Millionaire's Pie. They'll never know you barely lifted a finger to "no bake" this top-notch dessert. Or serve these rich and creamy Peanut Butter Cup Parfaits for a luscious treat that looks just as good as it tastes.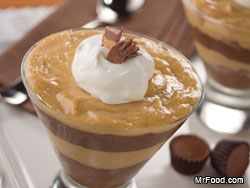 From easy no bake cheesecake to creamy no bake pies, we've got no bake desserts the whole family will love! Get your sweets without the heat and let your refrigerator or freezer to do all the work with our new No Bake Desserts: 18 Easy Dessert Recipes from Mr. Food free eCookbook. Download it today!
Share and Enjoy