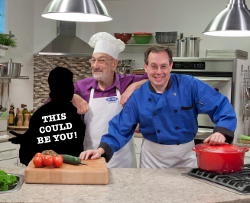 Are you always looking for new recipes to make during the week? Something that's not going to take up your entire evening? Well, you're in luck because the Mr. Food Test Kitchen is on The Search for the Ultimate Weeknight Meal…and we want your help!
We're looking to send one lucky winner on an all-expenses, paid trip to star with Mr. Food for a segment that will be aired on national television. If you have a blog and love to cook, we want you!
Keep reading to find out how you can enter to win!
To qualify, you simply need to post a "Quick & Easy" weeknight meal on your blog anytime during the month of August, and send us the link via our contact form. Our Test Kitchen crew will pick up to 10 finalists, and then, it's all up to you! You, the readers, will get to vote on your favorites and determine who will win our grand prize — the chance to star with Mr. Food! Plus, the winner will have the opportunity to become the very first editor-at-large for the Mr. Food blog! How cool is that?
We know we can't wait to see what you're all cooking up! From chicken to casseroles to pastas or anything in between, we want to know what you're making during the week. We can't to see all of your recipes, made with plenty of that "OOH IT'S SO GOOD!!"
Tell us in the comments: What's your favorite meal to make during the week?
Share and Enjoy