Certain dishes just scream summer. Potato salad, watermelon, barbecued chicken … and baked beans, of course! It wouldn't be summer without 'em, and I think that's why the food holiday gods must have picked July to be National Baked Bean Month.
It also makes for perfect timing with the 4th of July – which is centered around backyard barbecues and all of those famous summer party foods.
Now, one thing I love about baked beans is that you can very easily doctor-up store-bought or canned baked beans for a shortcut homemade side dish everyone will love. A little of this, a little of that – and you can make 'em your own!
Easy Ingredients You Can Add to Canned Baked Beans:
Molasses
Brown sugar
Maple syrup
Chopped onion
Ketchup
Mustard
Bacon
Chipotle chiles
Hot sauce
Pickled jalapenos
Try adding any of these ingredients to taste. Have fun with it! Or, if you'd rather follow a recipe, we've got some great ideas for you to try. All of these recipes start with canned baked beans: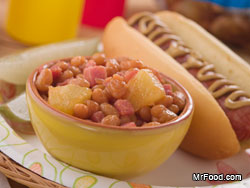 Backyard Bean Bake (shown above) – You'll love the crunchy fried onion topping!
Franks 'n' Beans Bread Bowls – Make a meal out of your beans with this fun idea the kids will love.
Hillbilly Baked Beans – Our meatiest version to date! Ground beef makes this recipe extra-filling.
Better Baked Beans (shown on right) – Pineapple in baked beans? I bet you'd be surprised at how much you like it!
No-Bake Baked Beans – This one comes together on the grill, perfect for your next BBQ!
Homestyle Baked Beans – And finally, a slow cooker version … everyone needs one of these!
How do you make baked beans your own? Please share with us your own favorite ingredients and ways to doctor-up canned baked beans in the comments below.
Share and Enjoy