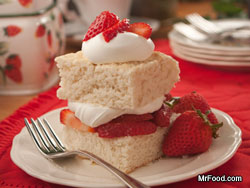 Summertime means lazy Sunday afternoons, sitting outside with a good book and a light breeze, and, of course, fruity desserts. While heavier fare may be fitting for those cold winter months, summer calls for something light and refreshing. What better way to celebrate than with your favorite fruit!
I'm sure you, like me, have your own personal favorites when it comes to fruit desserts. I, for one, can never turn down desserts with strawberries, especially if whipped cream is involved. The same can be said for peaches and bananas. However, my love for fruit knows no bounds, and if faced with a table full of different fruity desserts, I would probably grab a bit of every last one.
One of the great parts about summer: with so many graduation parties, wedding showers, reunions, and other gatherings, you get the opportunity to bake all kinds of fruit desserts, even pitting them against one another for the ultimate summertime showdown — at least as far as desserts go. Which fruit do you think would be the biggest crowd-pleaser among your friends and family?
We've got some wonderful fruity dessert ideas to help get you started!
Share and Enjoy