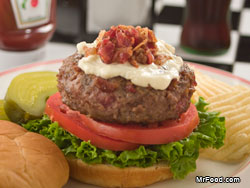 Did you know that the month of May is National Burger Month? I happen to think that this works out perfectly, considering that Memorial Day falls in the month of May – which also just happens to kick off grilling season!
We all have our favorite classic beef burger recipes – sometimes it's not even a recipe, but a way you prepare them … that you could probably do with your eyes closed!
I know for me, it's all about making sure to use plenty of salt and not to overwork the meat. I can stick with plain old ground beef and go that route, and I'll get deliciously juicy and flavorful burgers every time. (We've included these tricks and lots more in this handy collection of burger cooking tips!)
Of course, I do always like to add cheese – that's a given, right? (You guys surely remember how much I love cheese!) Anything from American to Cheddar to Brie floats my burger boat. But sometimes, I like to get even more creative …
And so, without further ado, I bring you 10 fabulous ideas for the very best burgers to enjoy this weekend … and all summer long!

How can we add a load of flavor to our burgers all at once? Mix in a load of tasty ingredients for an All-in-One Burger that's so good they may not even need any extra toppings. Sure, let them add some if they want.
Our beefy Ten Pin Burgers will be right up your gang's alley. Cook these flavorful south-of-the-border burgers on the stovetop or grill and get ready to sink your teeth into their juicy taste!

This is the classic recipe for Bacon Cheddar Burgers, and one that gets it's special flavor from a bit of Worcestershire sauce mixed right in the ground beef. That's the secret to the zesty taste to these hearty burgers. You'll feel like the master of your grill when you serve these.

Guilt isn't one of the ingredients in our mouthwatering California Burgers! They are made from lighter ground turkey breast and topped with lycopene-rich tomatoes, heart-healthy avocados and red onions. Served up on a whole grain roll, you can feel good about this burger option.

These southwestern-style BBQ Chipotle Burgers get their robustness from chipotle peppers in adobo sauce which add smoky, spicy excitement. The crunchy homemade coleslaw topping provides a contrast of textures to make these burgers a blast to eat.
No need to head to the drive-in or the border to enjoy our juicy, sink-your-teeth-into-'em Stuffed Border Burgers right at home. This inside-out cheeseburger is sure to turn mealtime into a fiesta.

Turn your next cookout into a fiesta with these easy Mexican Burgers! This great burger recipe gets its flavorful pizzazz from the salsa that's mixed in with the ground beef, and the result is a taste bud-tingling surprise!

Here's a turkey option when you're in the mood for a change! We love these flavorful Greek Bistro Burgers, sure – but what we really love is the light and creamy cucumber yogurt sauce that smothers them.
Here's an easy way to add some kick to your burgers 'cause the jalapenos are already in the cheese. We like to top our Jalapeno Cheese Burgers with a few jalapeno slices – fresh or pickled, the choice is yours!

Sink your teeth into our grilled Mushroom and Swiss Burgers and get ready for some flavorful excitement. You'll simply love our thick, juicy beef burgers topped with melty Swiss cheese and a heaping helping of freshly sauteed mushrooms.
Now, it's your turn to dish! What's your favorite burger topping? Share with us in the comments!
Share and Enjoy